An impeccable experience of gracious indulgence elegantly articulated at our resort in Maldives, OZEN RESERVE BOLIFUSHI with the promise of inspiration and harmony at its core.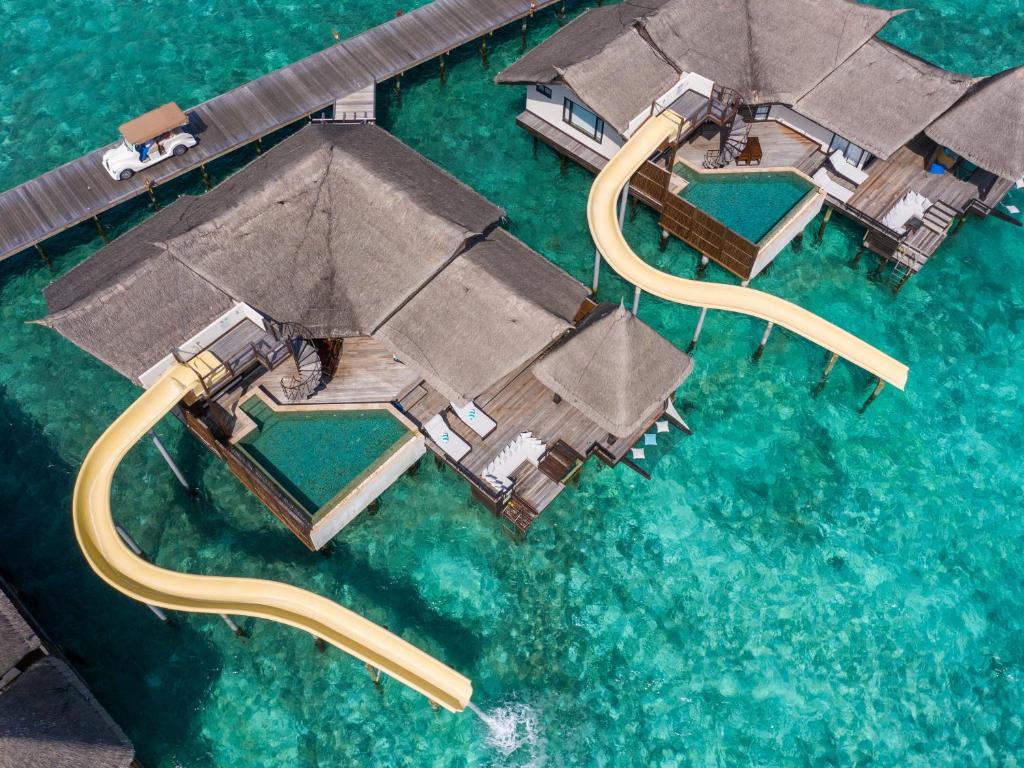 OCEAN POOL SUITE WITH SLIDE
Poised over the lagoon, these graceful villas set the mood for a serene island escape. These grandiose suites boast water slides to add a touch of adrenaline to your stay! Lounge on the hammock as you watch baby sharks and reef fish swim beneath you in the dappling turquoise waters. Sip a glass of wine from the maxi bar, filled twice daily, as you soak in the sunset view with your loved one.
OCEAN POOL RESERVE SUNSET WITH SLIDE 2|BR
Enjoy a mesmerising overwater retreat with stunning ocean views at our Maldives water villa with a private pool. Spread along a secluded 430-metres-long wooden jetty are the seven Private Ocean RESERVE with Slide. A 35 sqm private infinity pool and deck, overwater hammocks, a private beach deck, and a 23-metre water slide invites you to immerse yourself in the joys of island living. Sip a glass of wine from the Maxi Bar, filled twice daily, as you soak in the sunset view with your loved one.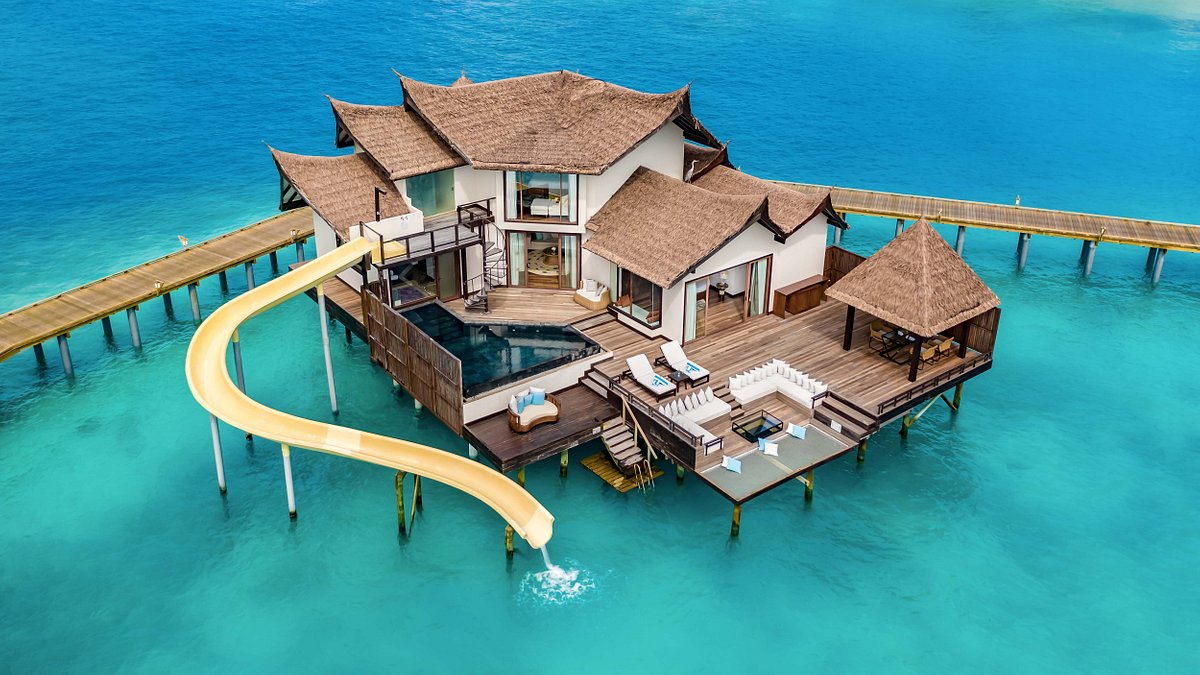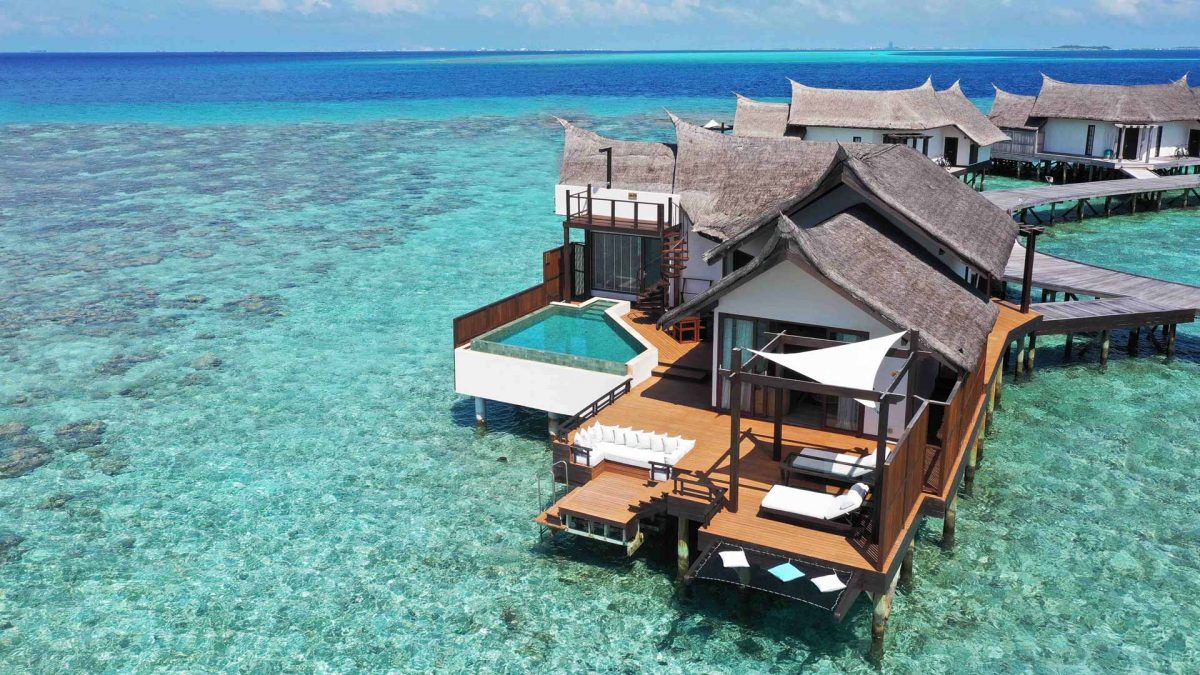 OCEAN POOL SUITE
Just steps away from the gentle waters of the lagoon, the Ocean Pool Suite ensures complete relaxation and comfort. Soak in the sun or stargaze while unwinding on the outdoor deck. Swim in the private infinity pool or take a dip in the balmy lagoon below. The indoors are just as delightful, with teak flooring, vibrant tropical coloured fabrics, and modern décor highlights. Relax after a day of adventure in the sunken indoor bathtub overlooking the lagoon.
EARTH POOL RESERVE SUNSET 2|BR
Create memories for a lifetime with your loved ones in this resplendent beachside RESERVE with two bedrooms. Experience a feeling of tranquility in the expansive light-filled bedrooms and living areas indoors. Relax outdoors cocooned in an emerald jungle of palm trees and tropical plants, a step away from the endless ocean surrounding our beach villa in Maldives.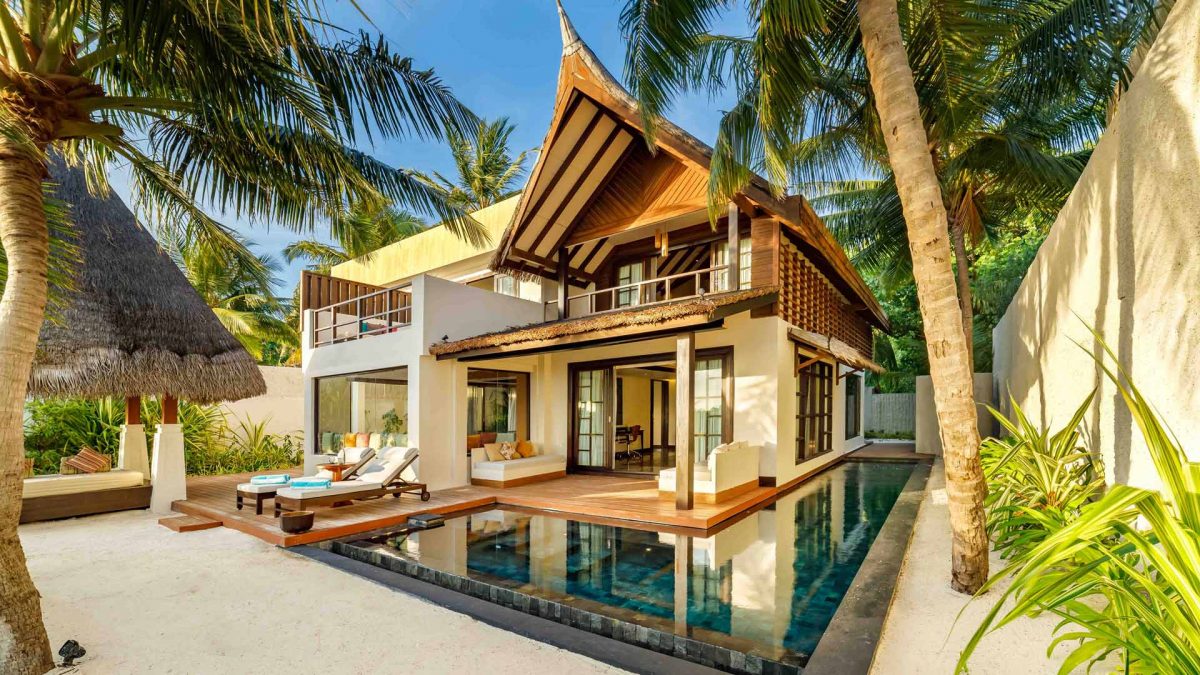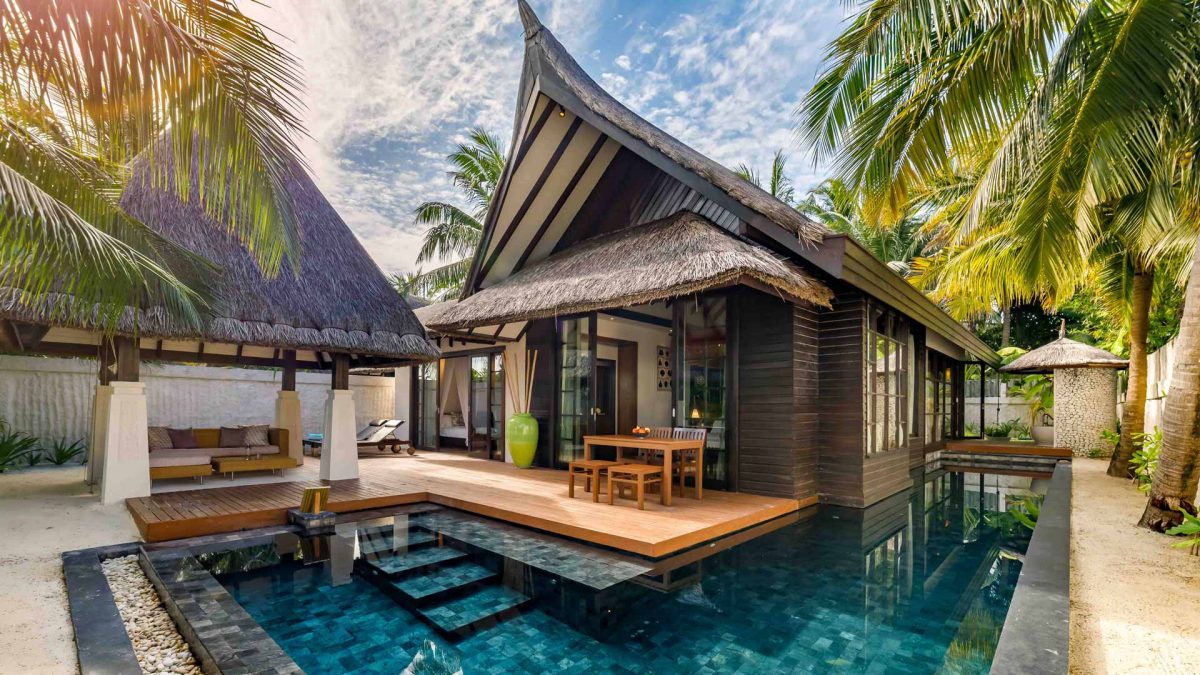 EARTH POOL PAVILION
Wake up to a spectacular sunrise view over the water's edge. Share family time at your secluded tropical garden with a private L-shaped pool and terrace, just steps from the beach. Relax and rejuvenate in your serene corner of the island while being within easy reach of facilities such as the restaurants, kids' club, main pool, and the water sports centre.
EARTH POOL VILLA SUNRISE
Wake up to a spectacular sunrise view in this spacious and extraordinarily sophisticated private villa in Maldives. Swim in your private plunge pool and soak in the Maldivian rays on the sundeck. Relish a meal in your private dining pavilion. The sparkling sandy beach is just a step from your lush tropical garden.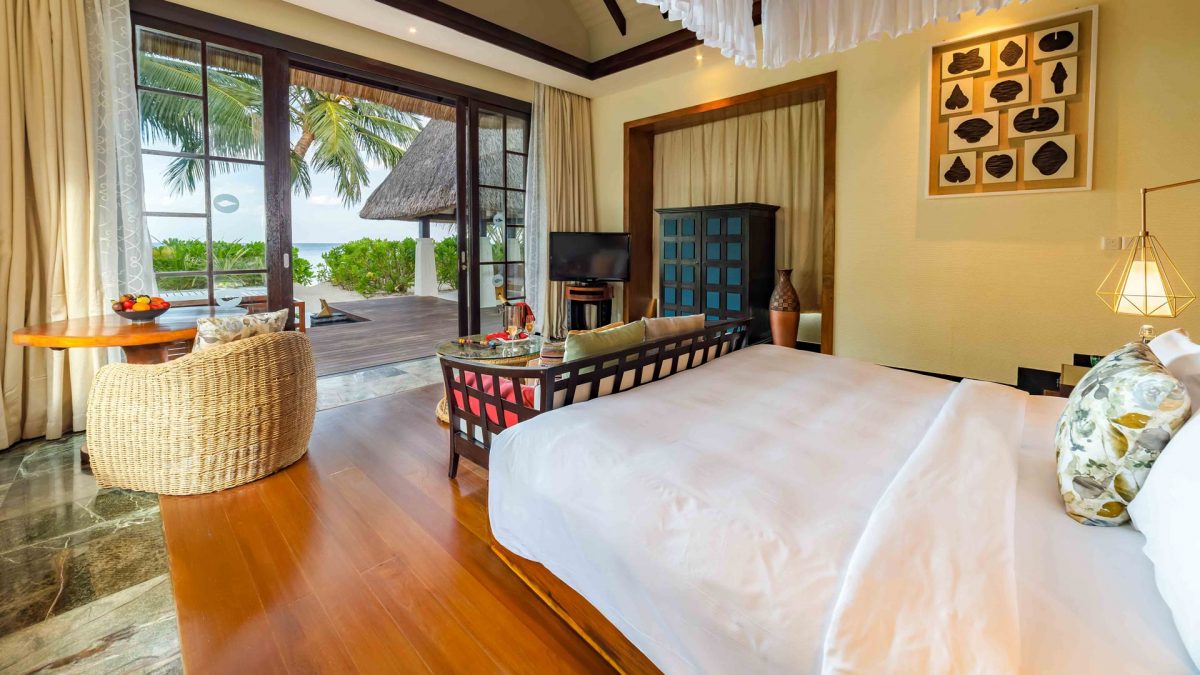 OZAR
The most inviting spot on the island, you can sip a refreshing drink and soak up the tropical vibes as you relax on the sun loungers. As the day draws to a close at the beach, a chilled-out party vibe is in the air with sundowners that compete with the dazzling colors in the sky. An International DJ spinning enigma music style tunes adds to the electric vibes.
VISTA DEL MAR
Elegant and interactive dining experiences infused with a fresh 'By the Ocean' spirit. Savour World Cuisine with subtle Spanish inspiration. Indulge in delicacies from around the world, carefully chosen to appeal to discerning, well-travelled guests. Enjoy vibrant, interactive cook-off stations, and a cold section with a display of gourmet cheese, delicatessen, patisserie, and fine delights from around the globe. Chic modern décor and alluring lagoon views all around add to the charm.
TRADITION SAFFRON
Celebrating its magic and mystery through carefully recreated heritage recipes from India. Enjoy inspired Indian cuisine served in the luxurious beachside surrounds of a Maharaja style garden, dotted with open-air cabanas. The Traditional Indian Thali dinner features a welcome drink of Moët & Chandon Champagne and saffron-themed historical dishes. Relaxed music and live performances light up the special moment.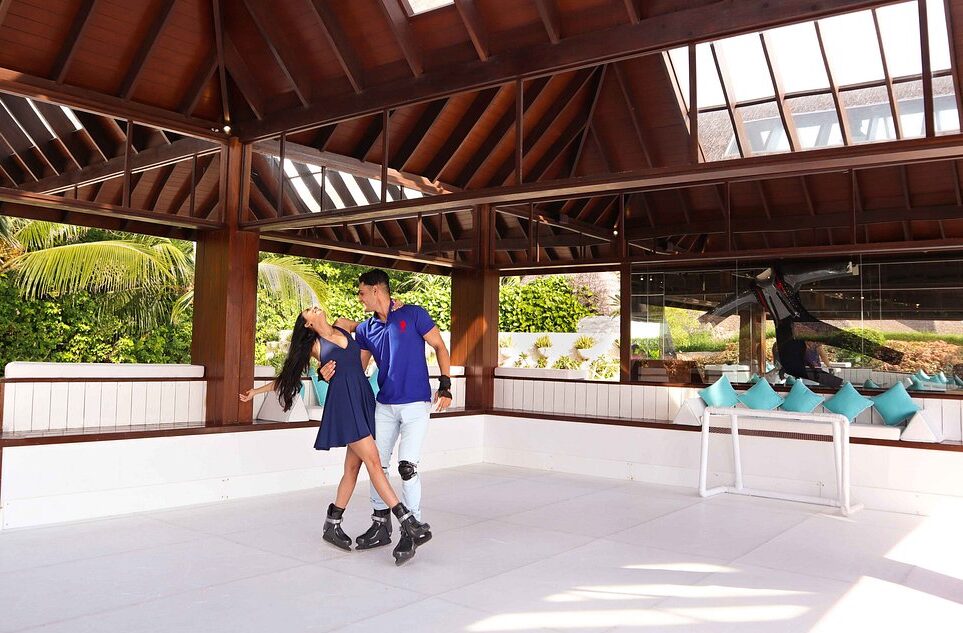 ECO-FRIENDLY ICE SKATING
Experience a winter wonderland in our tropical paradise at the Open-Air Ice Rink – the first of its kind in the Maldives. Step out of the turquoise blue water and into a pair of skates to pirouette around the vistas of powder-soft beaches and blue skies all at once.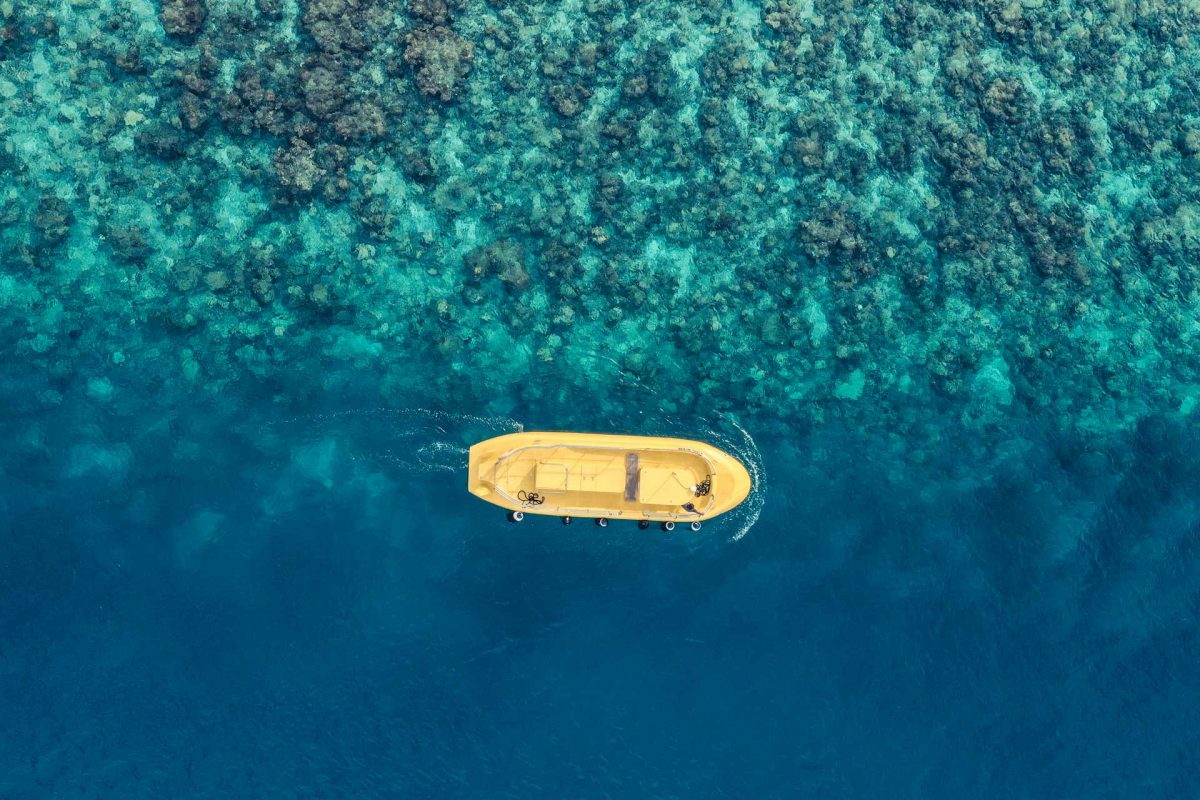 SEMI-SUBMARINE EXPLORATIONS
Explore the stunning reefs around Bolifushi Island without getting wet! Seated just one metre underwater, experience a diver's view of the reef. The upper body of the vessel remains above the sea surface at all times while the bottom section is 1.3 metres below the water. The large windows of the underwater hull allow you to enjoy spectacular views of the underwater ecosystem, creating the illusion of a real submarine dive.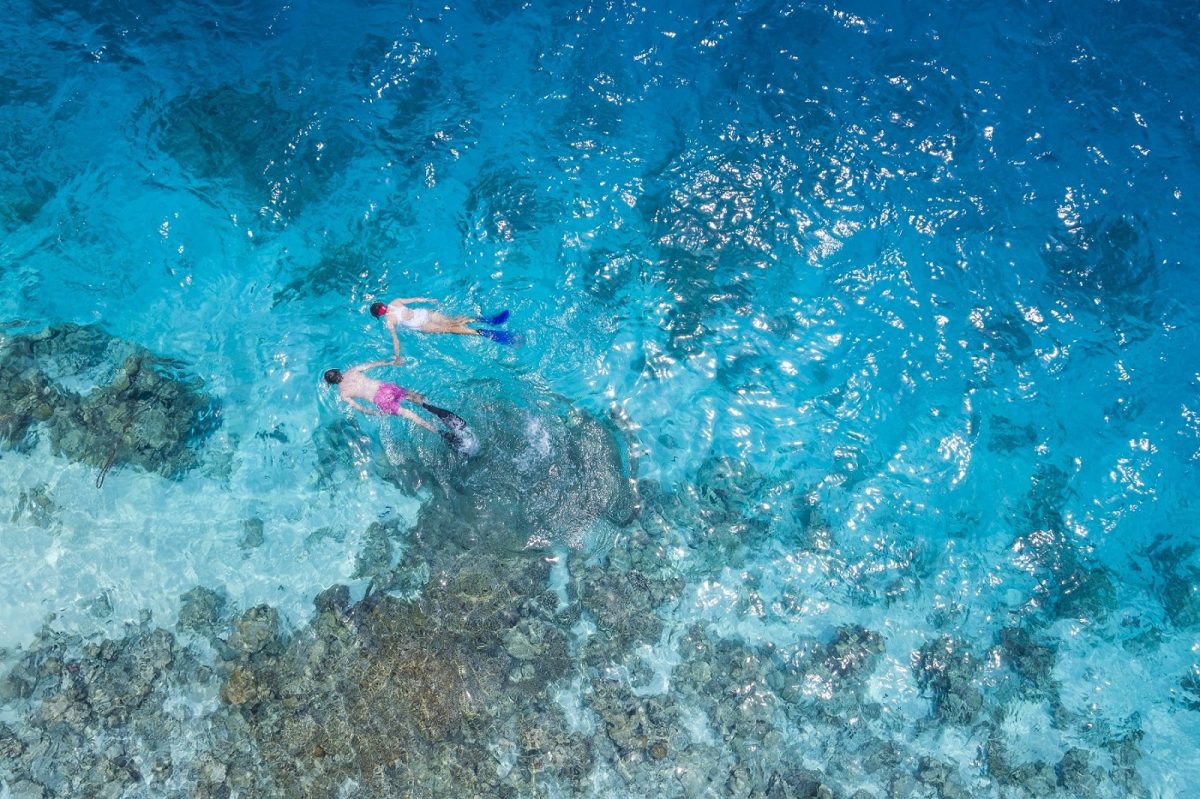 SNORKELLING AND WATERSPORTS
Days of endless exploration on or under our crystal clear waters await you. Your days can be as action-packed or as delightfully relaxed as you desire. Surrounded by an abundant house reef teeming with marine life, Bolifushi Island is the ideal base for underwater explorations. You will enjoy excellent snorkelling opportunities right from the beach. Swim with nurse sharks, stingrays, sea turtles, and shoals of colourful fish.
Soothe your senses with rituals using ancient massage techniques and the signature treatments based on a holistic method that incorporates the five natural elements wind, water, fire, earth, and wood. The treatments are all carried out by passionate, highly trained, international therapists using premium Ila spa products. The complex consists of serene treatment rooms: four overwater and four garden rooms, a hairdresser and beauty salon, a spa boutique, and a photo lounge exclusively at the best spa in the Maldives.
Early bird discounts of upto 45%.
Honeymoon, Anniversary and Birthday Benefits
Talk to us today to receive the latest benefits.
Talk to us today to receive the latest family offers.