Rediscover the wonder of new places and possibilities. The thrill of exploration, or the bliss of transformation. Let art ignite your imagination, or surrender your soul to nature's abundance.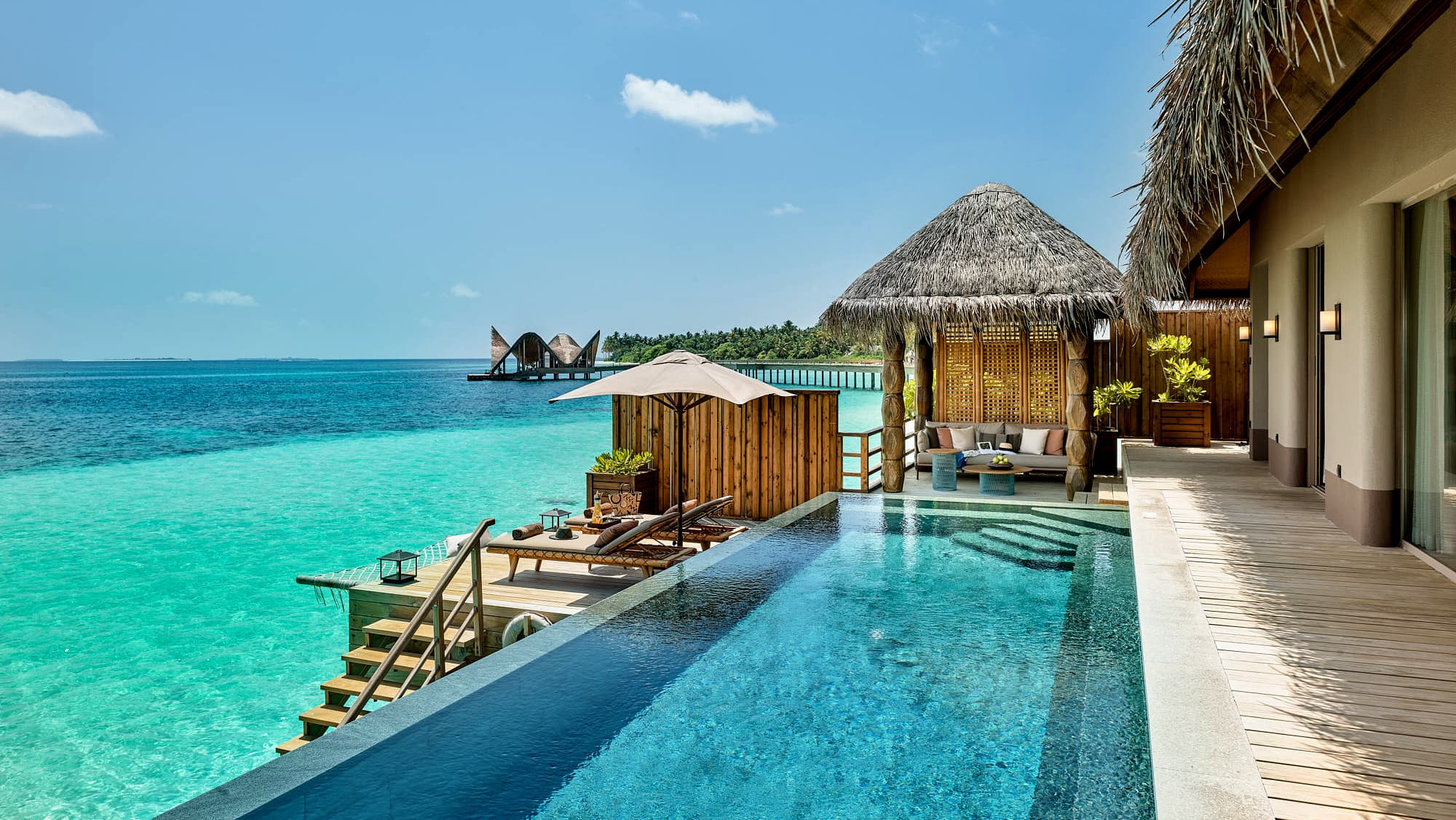 WATER VILLA WITH POOL
Unwind on the spacious sundeck, with the crystal-clear waves of the Indian Ocean beneath your feet. Or dive into your private infinity pool against a backdrop of endless Maldives seascapes. With its state-of-the-art lighting and mood control system, our water villa with pool is perfect for up to three guests and offers magical aquatic experiences by day and night.
LUXURY WATER VILLA WITH POOL
Featuring a living room that overlooks the sparkling waters of the Indian Ocean and a curated library, this private paradise can accommodate up to three guests. Savor sun-kissed pleasures all day long at the spacious sundeck and tranquil infinity pool. Thoughtful amenities and a state-of-the-art home and lighting system create an enchanting over-the-waves luxury resort experience, unparalleled in the Maldives.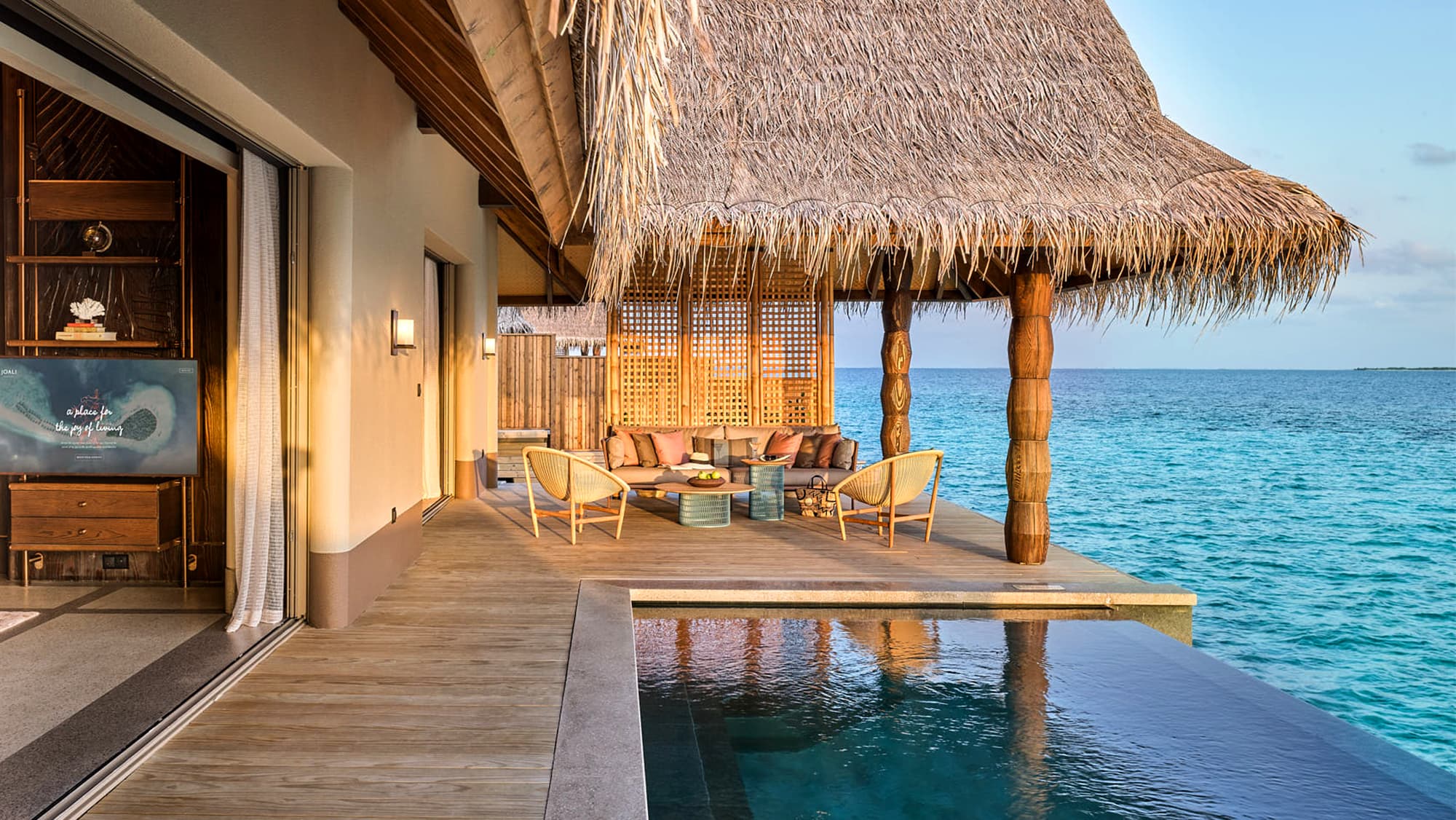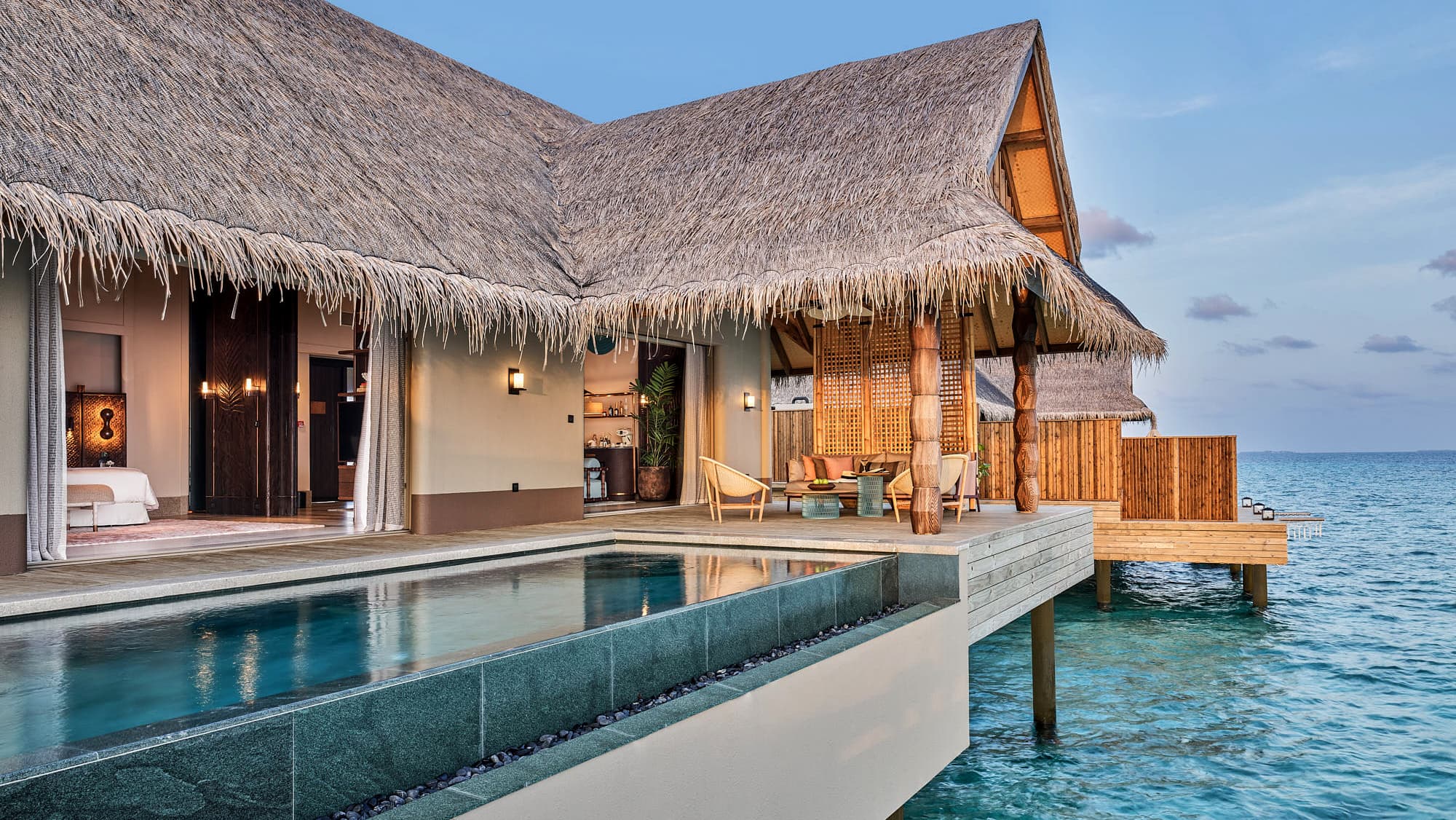 SUNSET LUXURY WATER VILLA WITH POOL
As the endless ocean shimmers under golden skies, each day is infused with magic and joy. Our sunset water villa comes with an extravagant 35 sqm infinity pool, making it the ultimate luxury resort getaway for up to three guests.
TWO BEDROOM WATER VILLA WITH POOL
Welcome to the perfect island home for the entire family, where loved ones can be together under one roof yet enjoy complete privacy. Unwind by the sparkling pool and share great memories on the open-air deck. With a spacious living room and two bedrooms, this villa can accommodate up to 5 guests.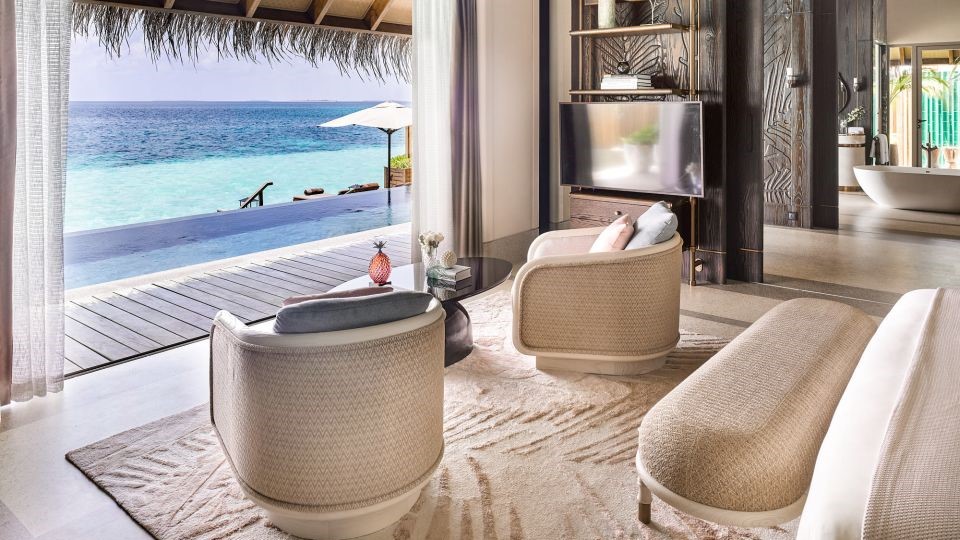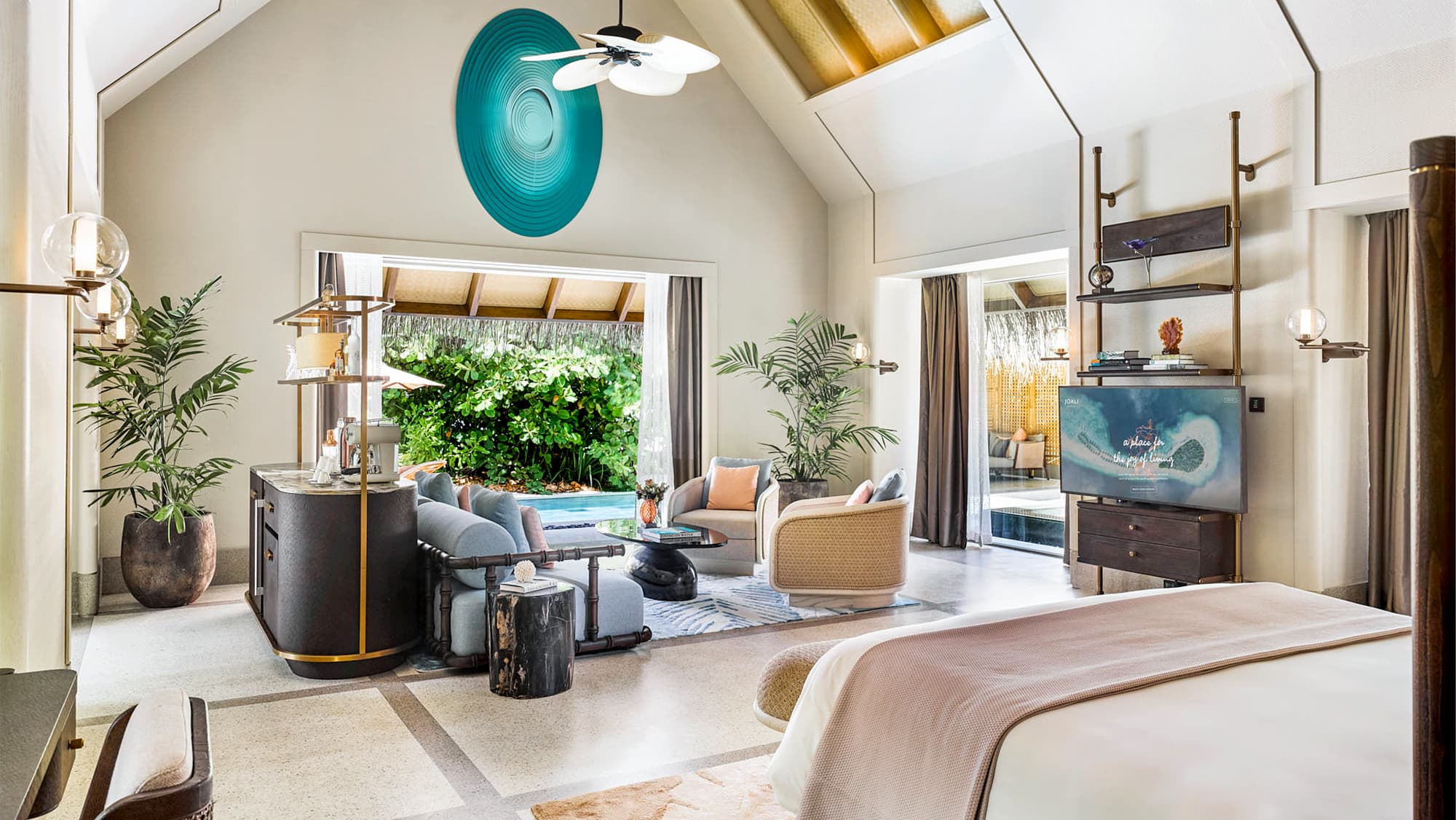 BEACH VILLA WITH POOL
Featuring handpicked objet d'art, a private beach garden and a bathroom with spa-style amenities, this haven can comfortably accommodate up to three guests. An infinity pool overlooking the waves awaits, perfect for a secluded swim under the stars. Your skilled Jadugar (private butler and valet) is on hand to ensure the ideal luxury resort stay.
FAMILY BEACH VILLA WITH TWO POOLS
Your beachfront private pool overlooks stunning ocean views, while the backyard pool is bordered by lush foliage. Reconnect with loved ones as you spend time in the garden or share delicious feasts on the breezy terrace. Tailored for small groups, this Maldives abode can accommodate up to four guests.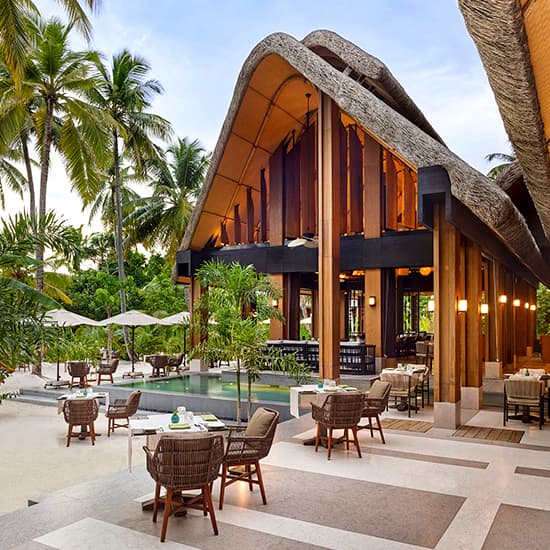 VANDHOO
Vandhoo offers a specially designed dining experience encompassing South East Asian, Chinese and Mediterranean cuisines.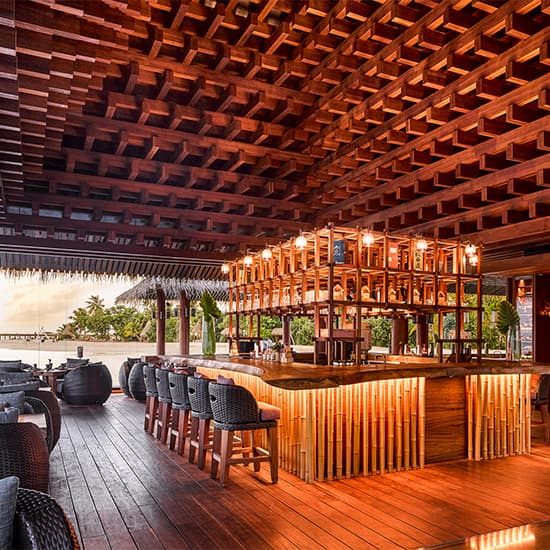 SAOKE
This distinctly Japanese restaurant has been designed by world-renowned restaurant architect Noriyoshi Muramatsu. Gazing out at the most incredible ocean views, the lounge offers an ideal venue for private brunches and wedding celebrations. This floating haven of delectable food serves select sakes, sushi and a choice of teppanyaki or kotatsu seating for iron-griddle enthusiasts.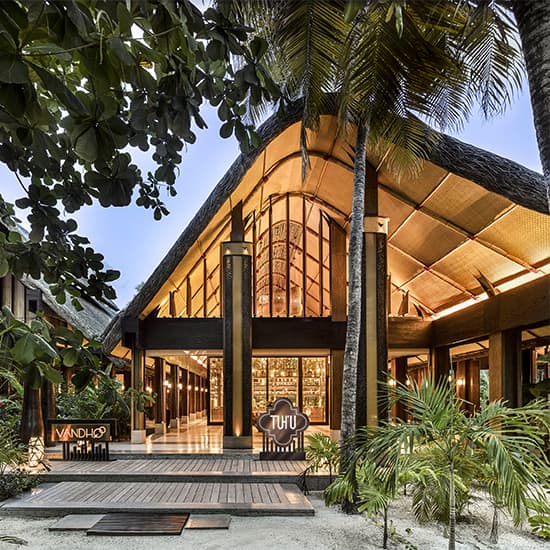 TUH'U
Located alfresco on the sand under atmospherically lit palms and the night sky, TUH'U serves Levant cuisine, authentic dishes that reveal an incredible explosion of flavours, taking you back in time and fuelling your passion to discover more.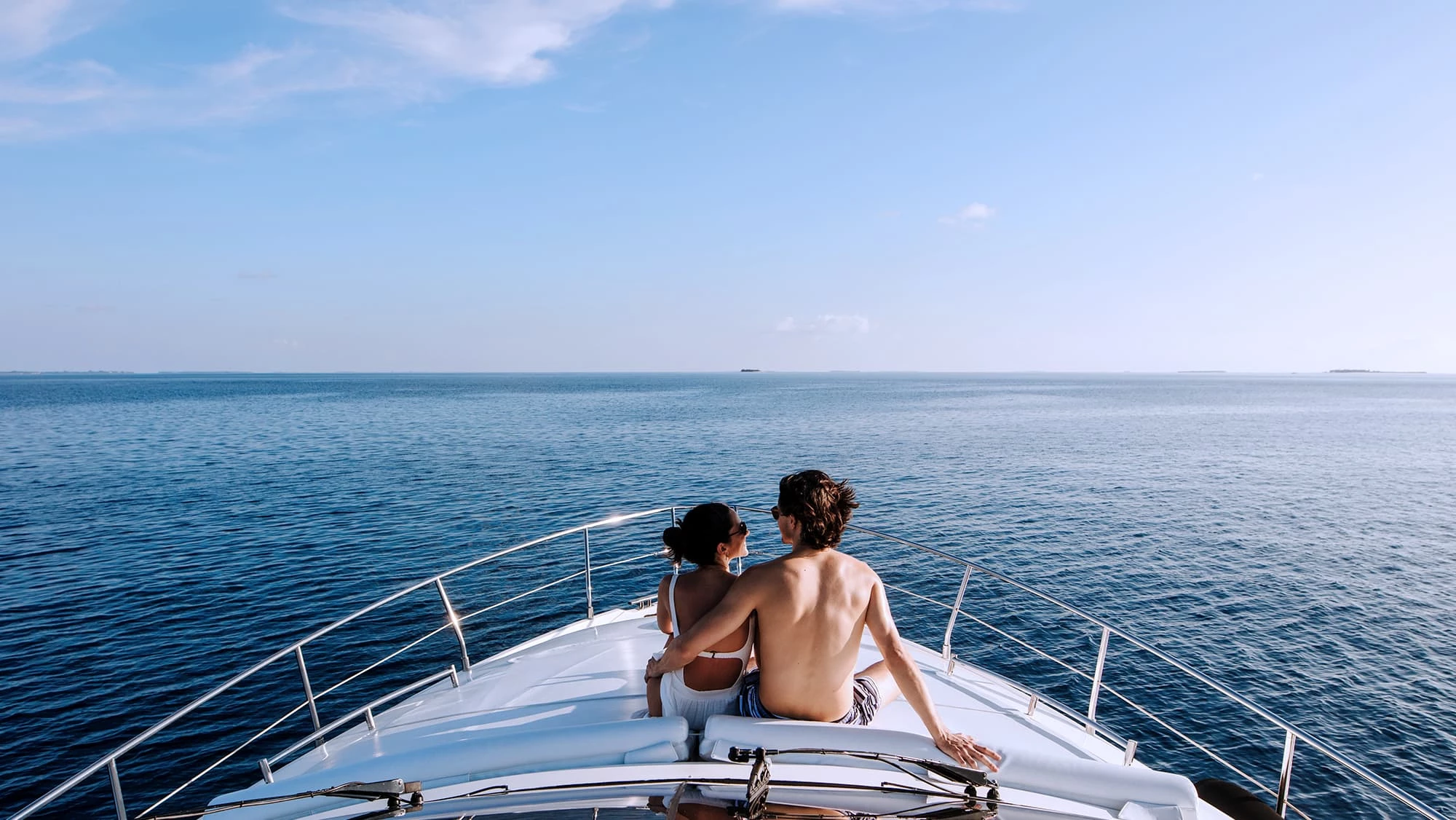 EXCURSIONS
From yachting across sparkling waters to meeting enigmatic manta rays and majestic whales, every excursion is an adventure waiting to be yours. Visit nearby Maldivian isles for glimpses of local life, or set off in a dhoni to chase a magical sunset.
MARINE SPORTS
Let our resident marine biologist guide you for a diving or snorkelling experience. Discover the fascinating underwater world of coral reefs and abundant marine life.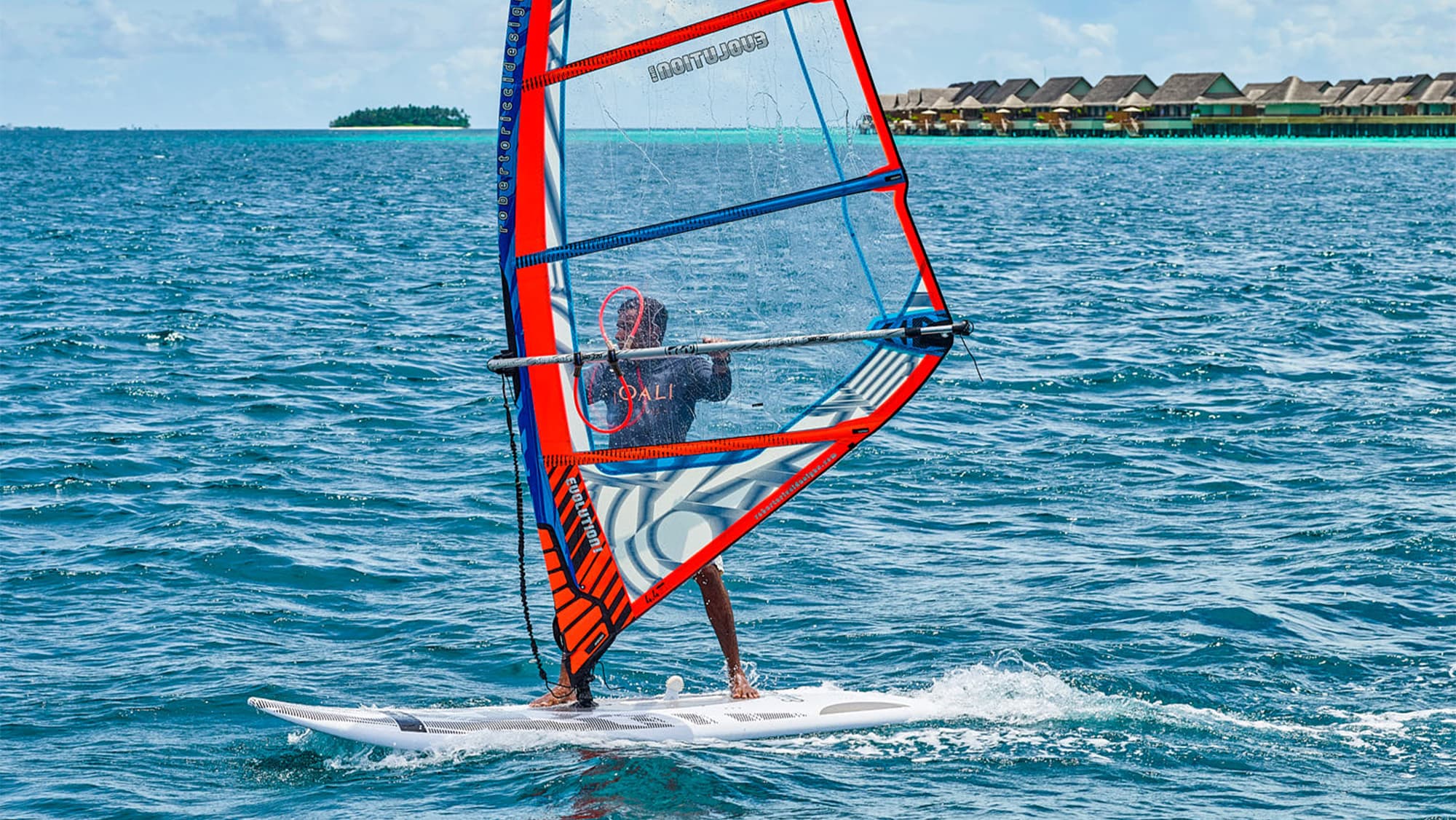 WATER SPORTS
We've got plenty of thrilling options for those who want to add some excitement to their stay. Enjoy unending views of emerald and turquoise while water skiing, parasailing or wakeboarding. You can even charter a speedboat for the day.
JOALI SPA BY ESPA "I let the mighty earth surround me, nourish me, content me." At JOALI Spa by ESPA, powerful signature treatments will restore your body's vitality and vibrancy, unlocking inner joy. Set amid breath-taking gardens and seaside vistas, the eight treatment rooms reflect a luxurious design concept. Based on the principles of holistic wellness, each therapy begins with a refreshing coconut water infusion and culminates with a unique culinary delight to complement and enhance your JOALI experience.
Early bird discounts of upto 45%.
Honeymoon, Anniversary and Birthday Benefits
Talk to us today to receive the latest benefits.
Talk to us today to receive the latest family offers.