Surrounded by nothing but turquoise lagoon which melts into sapphire blue, the Maldives luxury resort island of Anantara Kihavah and its pure white sands rise up out of the ocean like a mirage. Anantara Kihavah Maldives Villas invites you to imagine your own barefoot luxury paradise. Savour the luxury of space in your private pool beach villa or over water villa. Snorkel with mantas and Hawksbill sea turtles. Stargaze into the night. Dine on a deserted sandbank or beneath the ocean's surface at this enchanting sanctuary.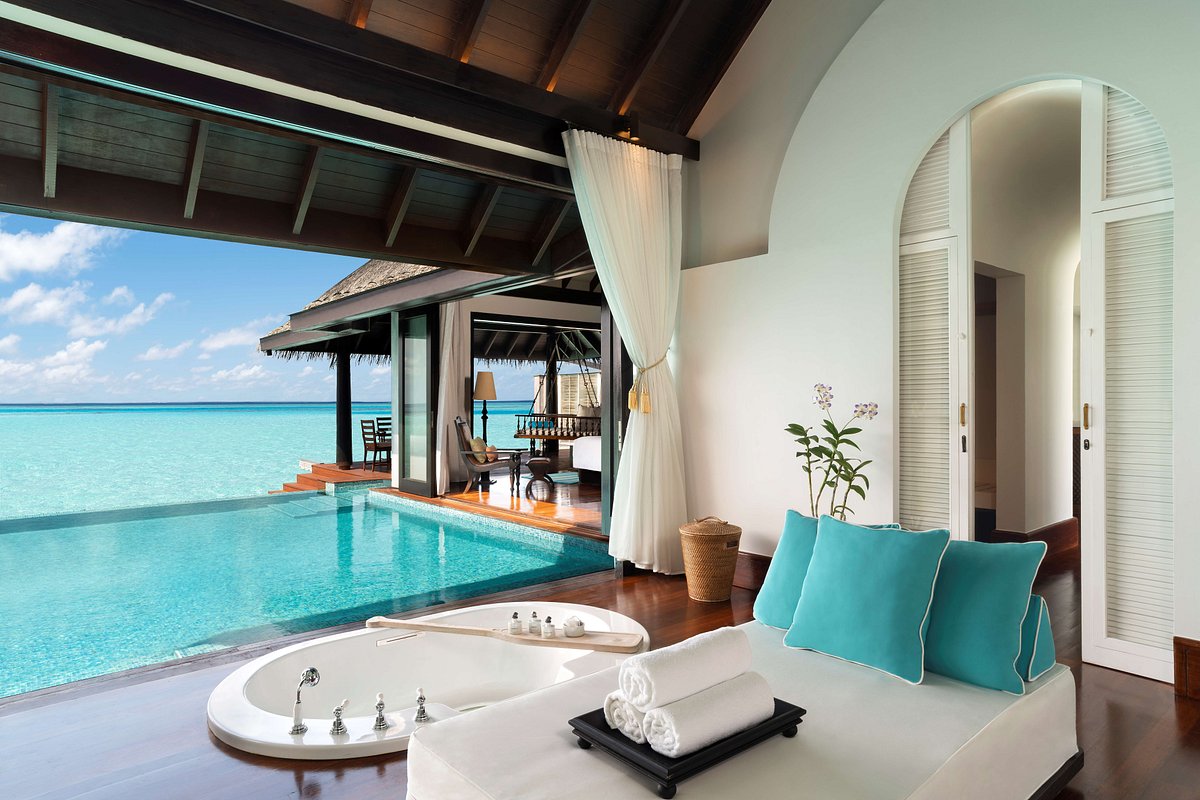 OVER WATER POOL VILLA
An Idyllic Maldives Over Water Villa Retreat A setting synonymous with the Maldives, over water villas are the epitome of island living. Fanning out like a peacock's plume over the turquoise waters of our private lagoon, our over water bungalows offer that distinctly Maldivian experience. Awake to endless Indian Ocean views. Slide open floor-to-ceiling doors of your ocean villa and plunge into your infinity-edge pool. Sunbathe or lounge in over water hammocks, or descend directly from your sundeck to swim with brilliant tropical schools and the occasional sea turtle.
SUNSET OVER WATER POOL VILLA
In the Maldives, villas suspended over water are amongst the most unique of experiences to discover in the destination. Elevating this mystique, is when they occupy the prime West-facing position. Setting the stage for romance, our sunset over water pool villa offers all the luxuries one can expect from an Anantara experience, against a backdrop of a spectacular Maldivian sunset over the Indian Ocean. Dine on your veranda with the panoramic views before you, your meal served in the comfort of your villa and toast the moment with a select vintage from your chilled wine collection. Soak in a sunken glass-bottom tub for two as the stars come out overhead. Beneath you, pufferfish swim amongst swaying corals and darting fish. Sink into your ocean view bed with your choice of pillows and soft Egyptian cotton, and drift into slumber accompanied by the soothing sound of the ocean.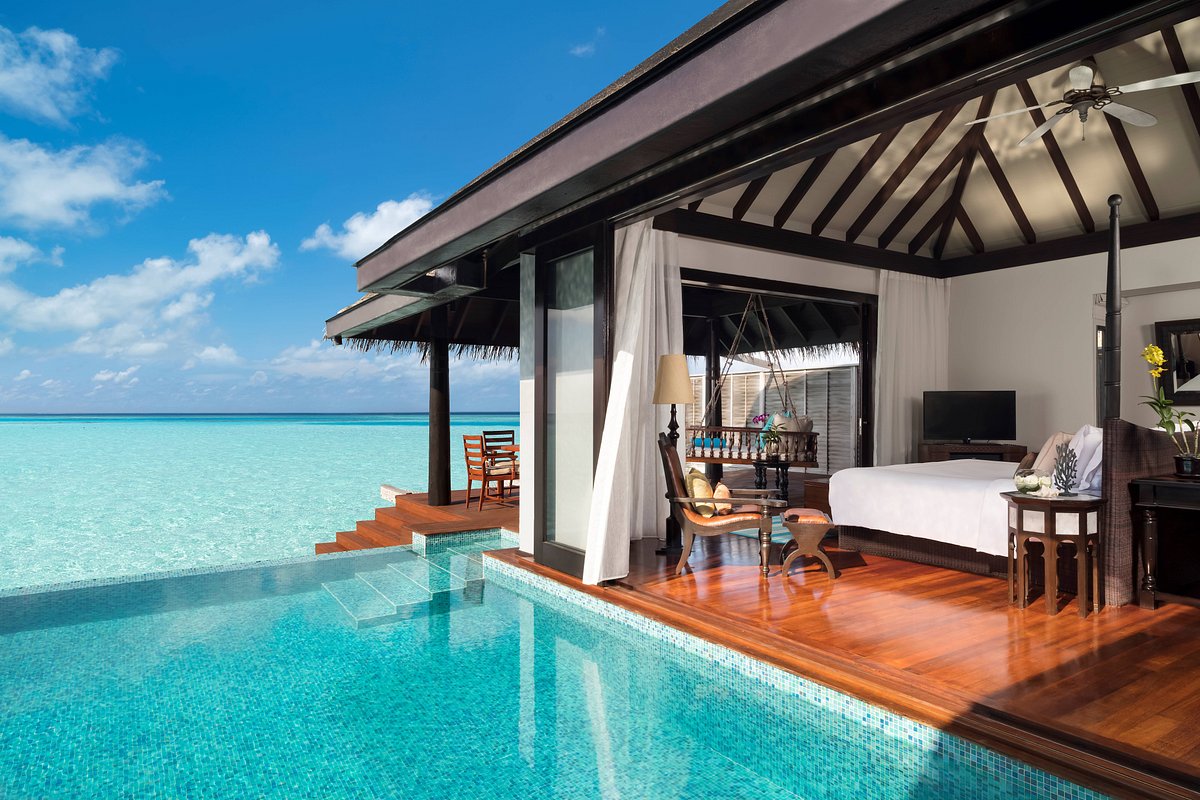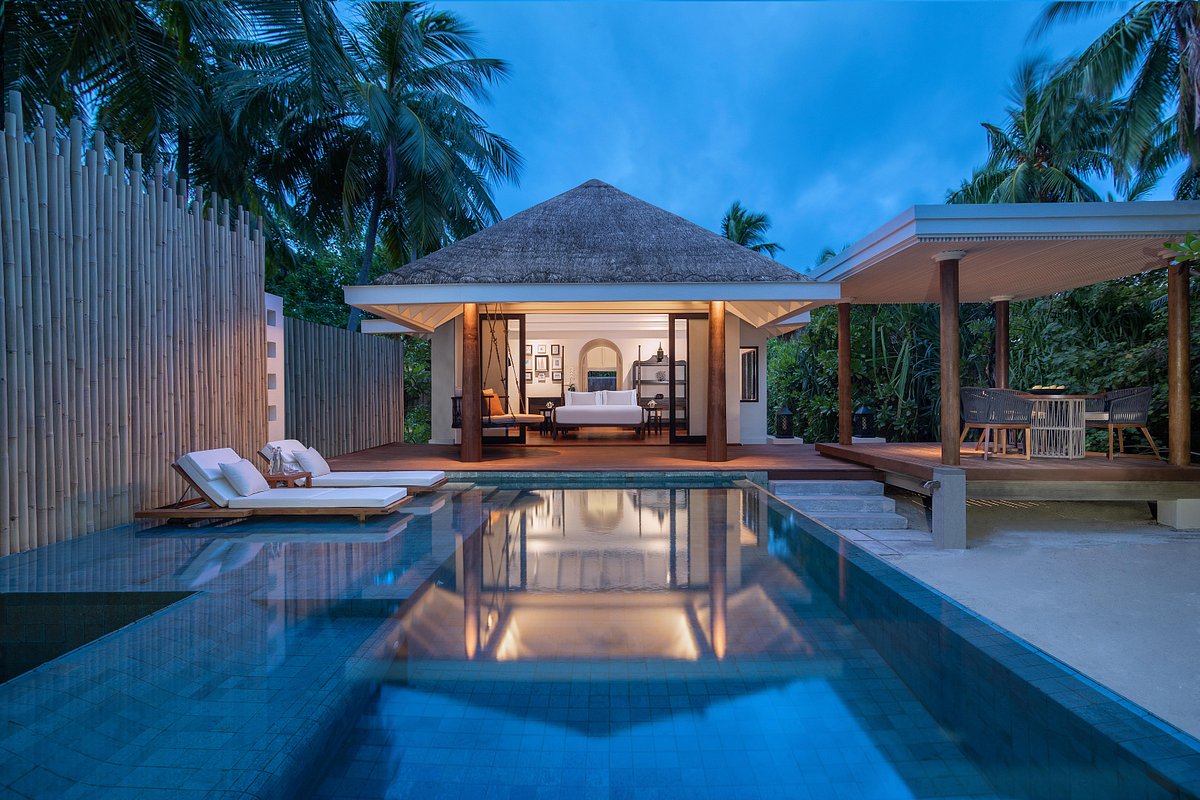 BEACH POOL VILLA
A Maldives Beach Villa Sanctuary Cradled by lush vegetation and the ocean view of the Maldives, beach villas at Anantara Kihavah are private sanctuaries of indulgence. Hidden away on the palm-fringed island and opening onto soft white sands, the beauty of the Indian Ocean lies right at your villa's doorstep. Spend the day floating in your private infinity pool with over water loungers or dine in a shaded sala-style pavilion with a vintage of choice from your villa's wine collection. Your al fresco bathroom features both indoor and outdoor rain showers and can be reached through a his and hers dressing room. Walk over the reflection pool and sink into a luxurious soaking tub for two in your luxury villa at this five-star beach resort.
ONE BEDROOM FAMILY BEACH POOL VILLA
A extravagance stay in Maldives private beach villa Nestled amongst lush greenery and palm trees and opening onto soft white sands, your One Bedroom Family Beach Pool Villa is a private sanctuary of indulgence Enjoy the freedom of spacious privacy whilst the little ones are at play or at rest. Spend the day floating on your infinity pool with over water loungers or wander into the nearby ocean, mere steps away.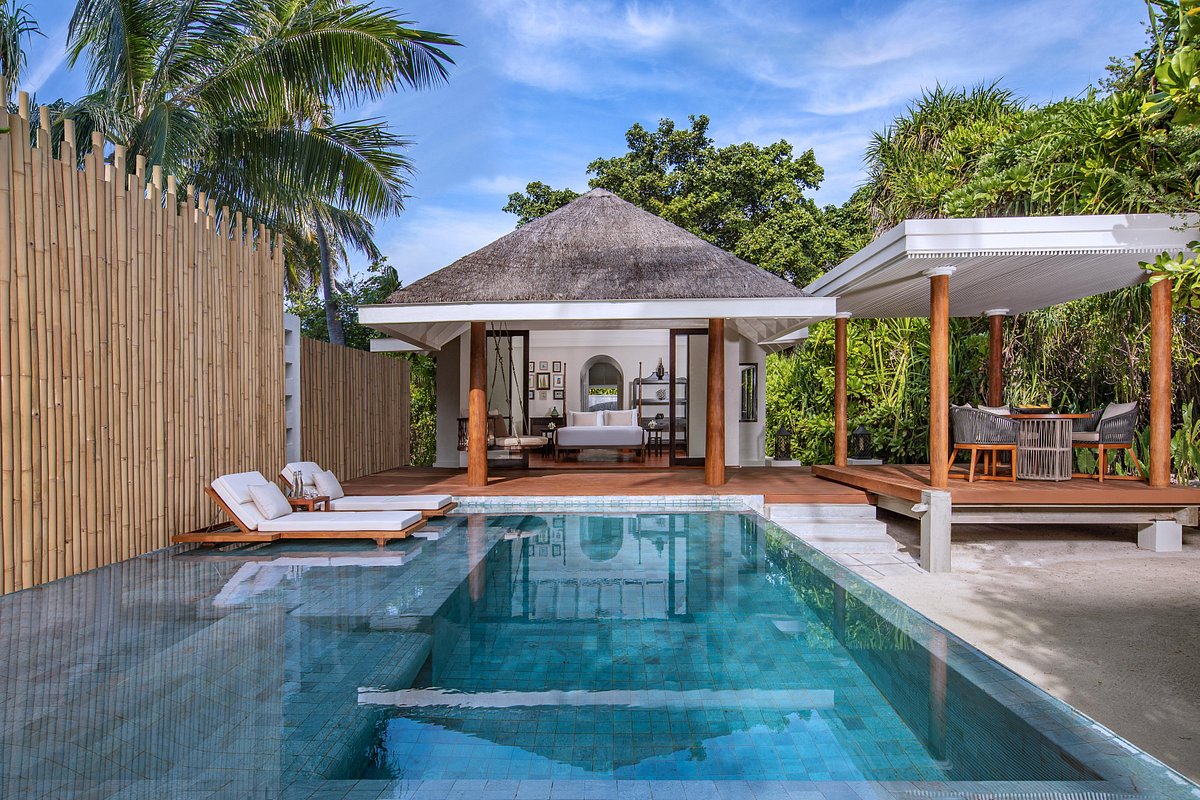 TWO BEDROOM BEACH POOL RESIDENCE
Family-Friendly Maldives Beach Resort Choice At 786 sqm, these beachfront residences at our family friendly Maldives beach resort offers the luxury of space, with shared indoor and outdoor areas and private bedroom sanctuaries to retire to. High vaulted ceilings and hardwood floors ensure cool lounging throughout the day, while a private beach pathway provides direct access to powder white sand and crystal clear water sheltering our famed house reef. Enjoy the resort spa experience right in the privacy of your own villa. Savour exciting gastronomy on your spacious deck under the stars. Enjoy a late-night soak in the sunken bathtub with fragrant Elemis products
TWO BEDROOM SUNSET OVER WATER POOL RESIDENCE
Your floating palace. Discover our over water residences. Set at the very end of the boardwalk, the Two Bedroom Sunset Over Water Pool Residence offers commanding views of the open ocean. And with each ensuite bedroom at either end featuring its own outdoor living area, private or shared moments can be savoured. Come together for meals served indoors or out under the stars. Bask in ocean breezes in the infinity pool perched over water or in the shade of the daybed sala. Delight in glimpses of sea turtles swimming below through glass-viewing panels or indulge in inspiring views whilst keeping fit or relaxing with a spa treatment, all in the privacy of your own residence.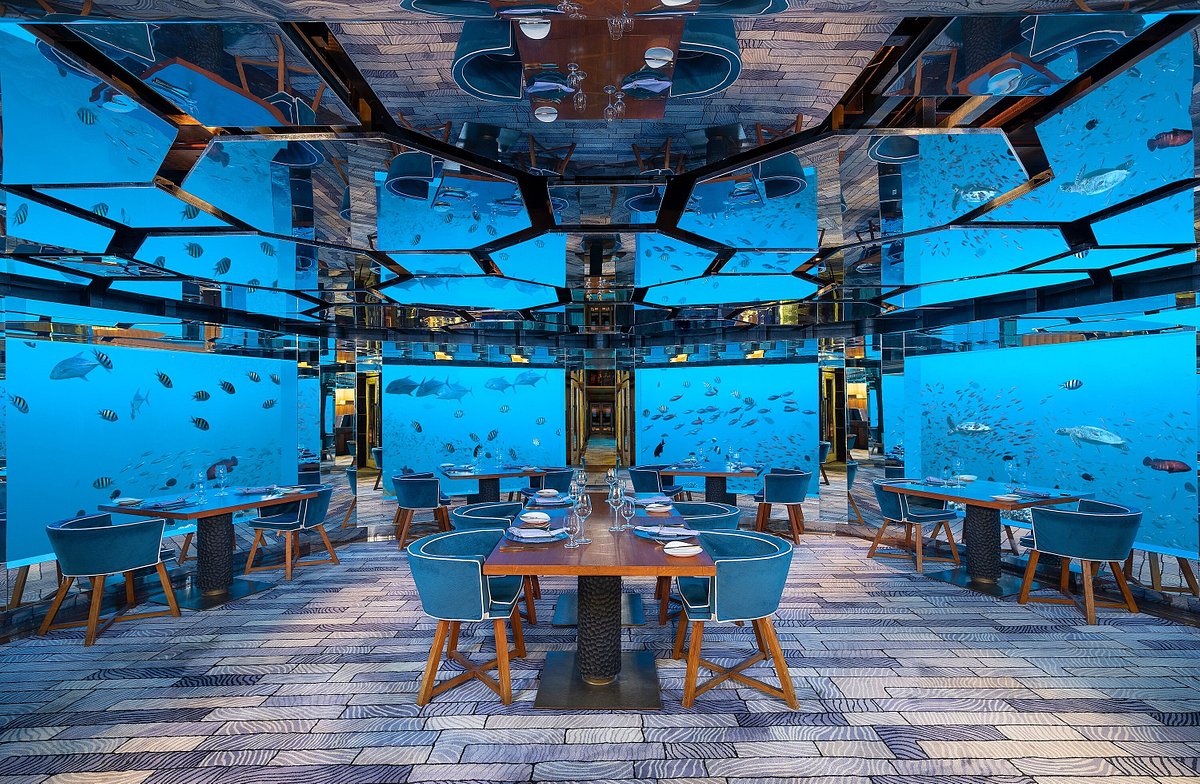 SEA
Gourmet meals under the ocean's waves in an underwater restaurant. Journey beneath the water for an unforgettable Maldivian dining experience. Explore the world's first underwater wine cellar before you reach a dining room totally surrounded by the sea. Watch sharks, turtles and tropical fish swim by as you savour gourmet dining at its finest. Impeccably plated Maldivian lobster makes for a special lunch, while pan-seared Japanese wagyu completes a romantic dinner.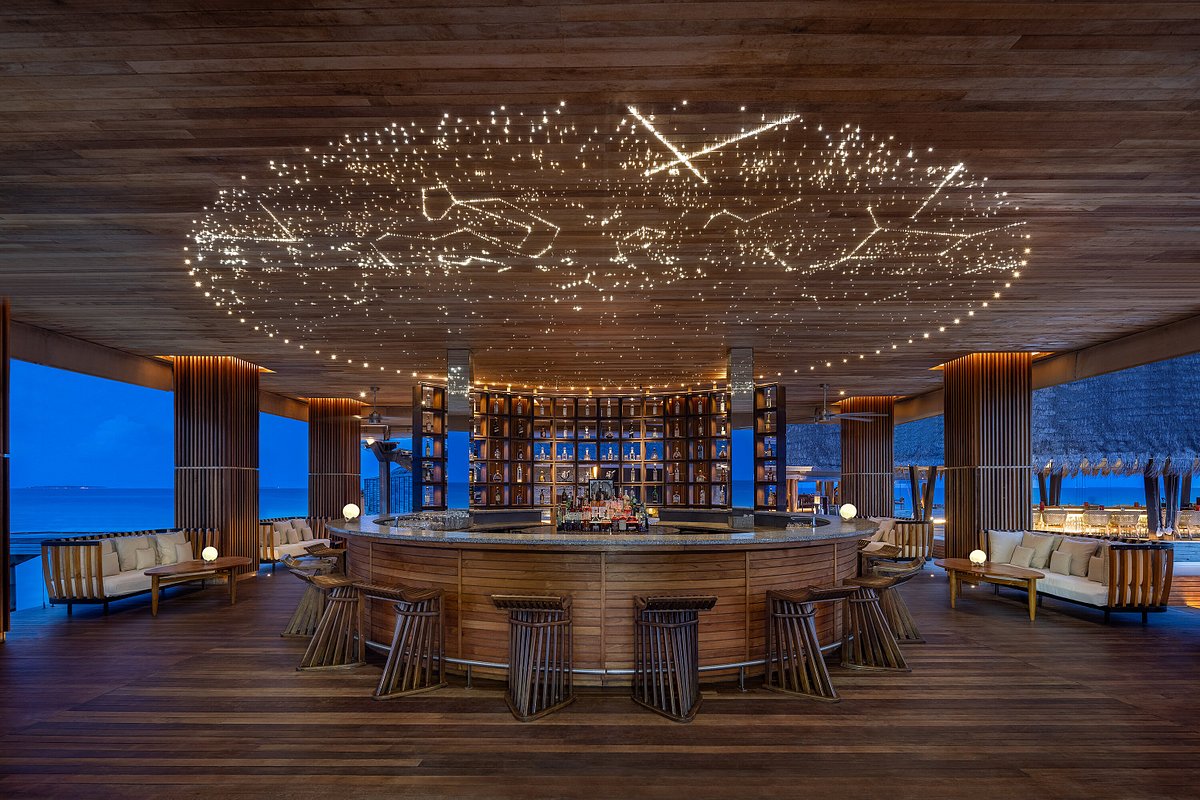 SKY
Swing by for sunset at the rooftop bar, stay for stargazing sessions. On a breathtaking private island where the forces of nature dazzle the imagination, SKY invites you to play out once in a lifetime journeys, immersed in Time and Wonder. Ascend for lounge cocktails as a sunset tapestry unfolds. Expand your view of the galaxy at the Maldives' first over water observatory. Stargaze through the Maldives' most powerful telescope. Learn about the constellations and planets with our storytelling SKY Guru. Discover extraordinary experiences that enlighten couple's romance and family adventure.
FIRE
Teppanyaki treats with a dazzling twist. Get in on the excitement at Anantara Kihavah's buzzing Japanese restaurant. Select your lobster fresh from the sea. Pick your seat surrounding the centre of the action. Chefs put on a show for every guest each night, as the ocean breeze blows beneath the thatched roof. Feast your eyes on fresh sashimi and flame-kissed Angus tenderloin. Then top off an unforgettable evening with sweet sake or Japanese tea.
JETPACK SEABOB
Zoom through the water like a dolphin with the environmentally friendly jetpack Seabob. Dip below the surface to discover new depths. Your eyes are protected by a mask and you can quietly move at speed to take in more than you thought possible. Or keep your head above the water and skim across the ocean for a thrilling experience.
SAIL AWAY OVERNIGHT ADVENTURES
Experience an element of adventure in deluxe surroundings on board Ocean Whisperer, a 24-metre luxury gulet ideal for romantic escapes. Spend days cruising on the Indian Ocean whilst evenings light up with exclusive private dining. Enjoy a private snorkeling experience with your loved one.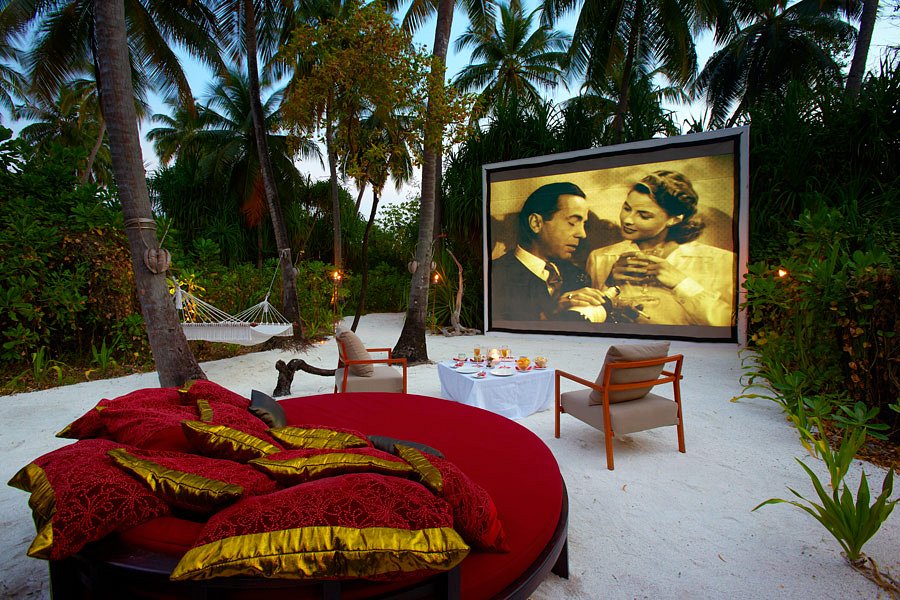 CINEMA UNDER THE STARS
Recline on a comfortable sofa beneath the twinkling Maldivian sky. A big screen under the stars shows a variety of classics along with recent blockbusters. Family-friendly favourites are shown for a perfect activity for all ages. Whether you choose drinks or oysters, a bucket of chicken wings or regular popcorn for your viewing snack, you'll be sure to enjoy our tasty accompaniments.
Enveloped by endless Indian Ocean views, our over water Maldives spa offers transformative world-class treatments, crafted with the healing properties of indigenous plants and fruits in mind. Our spa resort also houses the region's only Cocoon Medical Spa, featuring restorative facials, Vitamin IV Infusions and other detoxification therapies. Set in our over water villa spa, our wellness resort offers the experience of the ancient healing power of Ayurveda – a 5,000-year-old natural science that offers pathways towards health and harmony with holistic treatments. Embark on a journey that is customised to your personal aspirations and designed especially for you by our resident Ayurvedic Master. Meet with our other Masters of Wellness and discover a holistic range of experiences to rejuvenate, transform and awaken your senses.
Early bird discounts of upto 45%.
Honeymoon, Anniversary and Birthday Benefits
Talk to us today to receive the latest benefits.
Talk to us today to receive the latest family offers.